Welcome back to Hammer Drops, where we usually discuss the how's and why's of prices we are seeing for items sold at auction…but today, we're looking to our virtual storefront on eBay. The item in question is a limited edition Bowen Designs statue of Maila Nurmi's Vampira!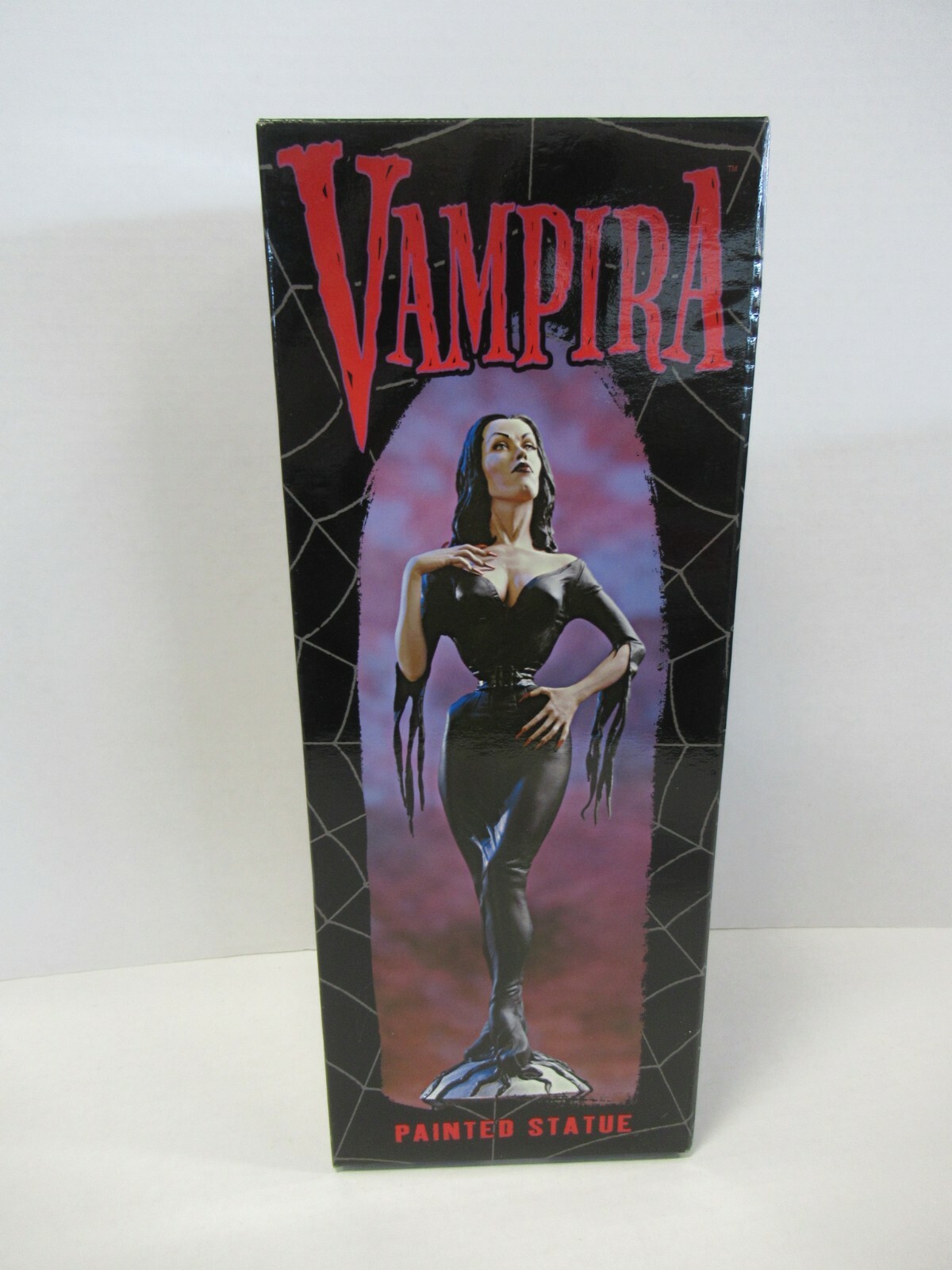 The Lot
An actress and pin-up model, Nurmi created the character of Vampira after being "discovered" at a Hollywood costume party by producer from KABC-TV. He hired her to introduce low-budget horror movies on the station, allowing her a pretty free hand when it came to crafting her host segments. The Vampira Show debuted in L.A. on May 1, 1954 with an uncommonly macabre sense of humor and was an instant hit, earning it a Life Magazine photo spread and Nurmi an in-character guest spot on the Red Skelton Show (both with national reach). It was cancelled after less than a year, however, when Nurmi refused to sell the character to the station.
Due to her show's popularity in the entertainment capital of the world, Nurmi landed movie roles here and there, either credited as or in-character as Vampira, through the end of the 50s. The best known of these appearances today is in the infamous Plan 9 From Outer Space, which Nurmi had mixed feelings about in her later years. The Vampira Show itself went out live and was not taped or available to syndicate, meaning it's pretty much lost to time.
The Teachable Moment: Being Hip & Playing Hard-To-Get Can Help Value
Vampira was the very first horror host in TV history, and without her we wouldn't have Svengoolie, The Ghoul, Sir Graves Ghastly, or (most obviously) Elvira, Mistress of the Dark. Her influence on a whole generation of pop culture fans' weekend evenings and movie tastes is incalculable, and yet, ironically, most of them probably haven't heard of her.
While Vampira has long been a cult-favorite thanks largely to her movie appearances and cultural influence, Maila Nurmi was extremely protective of her character and this 14″ limited edition statue is one of the very few pieces of licensed merchandise she allowed in her lifetime. This discretion seems to have paid off, as our consignor's specimen (#259/1000) sold for $700 within a week of posting despite her relative obscurity (compared to, say, Elvira).
Most of what passes through our doors has some kind of easy mass appeal, but it's the stuff like this that requires a true pop culture guru's careful eye to notice – how many folks out there even know precisely who Vampira is anymore? How many who do know care about her to the tune of seven bills? That's a fairly small Venn diagram, but we know exactly how to find them and deliver the goods!
We'll see you back here in two weeks for another installment of Hammer Drops!